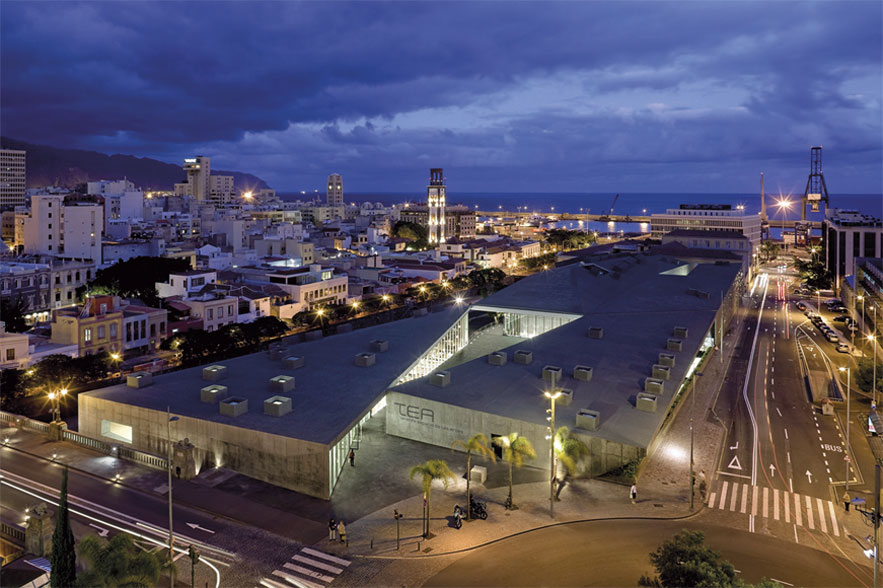 TEA Tenerife Espacio de las Artes
Visits_
TEA TENERIFE ESPACIO DE LAS ARTES, IS A CONTEMPORARY ARTS CENTRE OPERATED BY THE CABILDO DE TENERIFE (TENERIFE ISLAND COUNCIL) IN THE HEART OF SANTA CRUZ DE TENERIFE. THERE ARE A WIDE RANGE OF ACTIVITIES ON OFFER FOR ALL AGES, INCLUDING EXHIBITIONS, FILMS, WORKSHOPS, GUIDED VISITS AS WELL AS ACTIVITIES FOR YOUNG CHILDREN AND FAMILIES.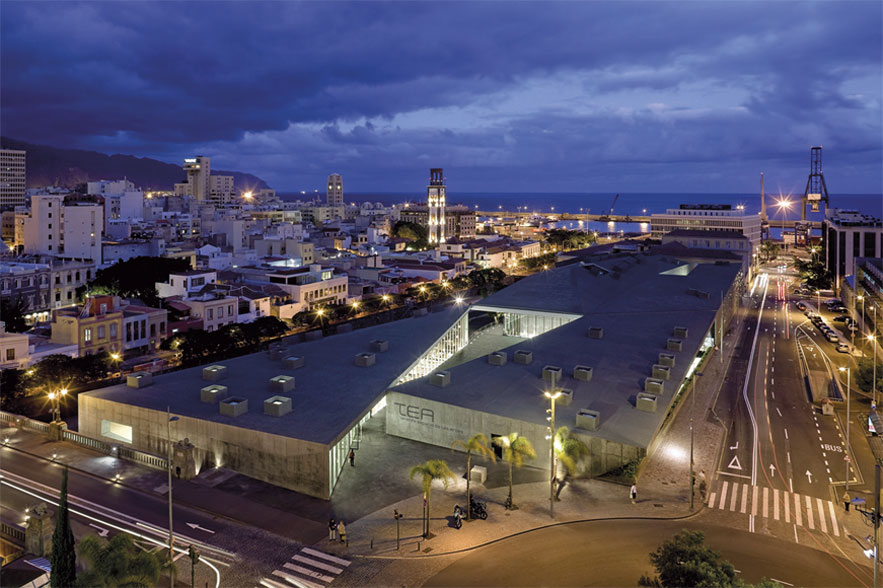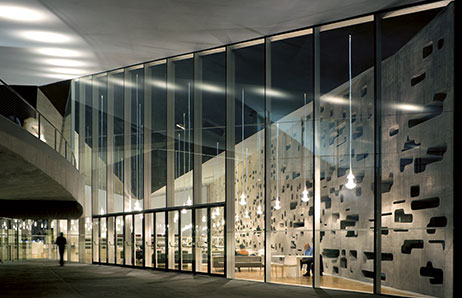 TEA is located in the rehabilitated historic centre of the city of Santa Cruz, on the right bank of the Santos ravine, between the Nuestra Señora de Africa market and the Immaculate Conception church and adjacent to the Museum of Nature and Man.
The concrete structure is pierced by thousands of tiny glass squares which combine to create beautiful forms that also function as small windows through which visitors can peek inside this creative space, which has paid homage over the years to great artists such as Dalí, Picasso, Penrose, Patti Smith, Tàpies among many others. TEA Tenerife Espacio de las Artes relies on a core collection of works by artist Óscar Domínguez from Tenerife (considered to be the Spain's third most prominent surrealist artist, along with Miró and Dalí), but regularly exhibits works by both emerging and established local artists.
The different worlds and realities of Óscar Domínguez, inventor of the technique known as decalcomania, are presented here through his works which are laid out in such a way as to allow visitors to explore the artist's different creative periods and to understand his contribution to surrealist painting. His work is also often presented alongside works by other artists.
Of particular note at TEA Tenerife Espacio de las Artes is the space that has been created for children and families. MiniTEA is a free space where young children can develop their creativity through art projects. It is testament to TEA's pioneering commitment to prioritising and raising awareness about its education program whilst at the same time putting it into practice, by providing a space for meeting, creativity and debate. It is open not only to families, but also to teachers, trainers, educators and other interested parties, where they can contribute to the creation of a more open and inclusive society. In addition to its exhibition spaces, TEA Tenerife Espacio de las Artes also holds a vast library (web), a cafe and restaurant, a shop containing unique and original items, an art library and a cinema showing original language films that tend not to be shown in commercial cinemas, including Canarian cinema (short films, feature length films and documentaries). Inside this huge multi-purpose structure there are also spaces for meetings, courses, dance and even music, making TEA a true cultural reference point in the Canary Islands.
Opening times:
TEA Tenerife is operating Tuesday to Sunday, from 10pm to 8pm. Screenings at the in-house cinema are on Fridays, Saturdays and Sundays. There is currently only one showing a day, at 7pm.
Exhibition hall_
Tuesday to sundays
10pm to 8pm.
Saturdays and Sundays
10pm to 8pm
Function room_
Friday to Sunday.
7pm.
Original language films_
Friday to Sunday.
At 7pm
Phone_
(+ 34) 922 849 090
Exhibitions:
Opening times_
Tuesday to Sundays
10pm to 8pm
Mondays closed except on public holiday.
Services:
Accessible_

Wifi_

Accessible toilet_

Guided visits for the deaf_

General admission_
Free entrance
Canary Island residents_
Free entrance
Over 65s, residents_
Free entrance
Groups (>10)_
Free entrance
CINEMA:
Program of independent and art house cinema, documentaries and films that are not usually shown in commercial cinemas.
Showing times_
From Friday to Sunday.
At 7pm.
Art library:
The library is part of the Red de Bibliotecas Especializadas of the Cabildo de Tenerife (the Tenerife Island Government's network of specialist libraries) and the BICA, Red de Bibliotecas de Canarias (Canary Island library network). http://www.teatenerife.es/biblioteca-arte
Opening times_
Tuesday to Friday
From 12:00 to 14:00 without prior appointment
From 10:00 to 14:00 hours by appointment by calling 922 849090
Contact and information:
Address_
Avda. de San Sebastián, 10.
38003 S/C de Tenerife.
ISLAS CANARIAS
Email_
Phone_
(+ 34) 922 849 090
Opening times_
Tuesday to Sundays
10pm to 8pm.
RULES FOR VISITORS:
- Avoid physical contact and remember to stand a safe distance away from others.
- Respect the maximum occupancy numbers.
- Follow instructions from museum staff and adhere to the guidance displayed on signs.
- There is no cloakroom service. Backpacks and other bags measuring 25x25cm are not allowed in the exhibition rooms.
RECOMMENDATIONS FOR YOUR VISIT:
- Hand sanitiser and bins with lids are available for your use. Use them throughout your visit.